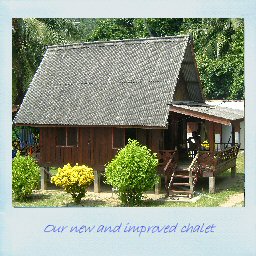 The beachfront restaurants were pretty pricey and tended to each offer the same menu, but there was a glint of competition appearing between them in the form of slightly differing prices. The speciality of an evening was the seafood beach barbeque. Generous chunks of fresh fish caught just that day were chopped up, bbq'd and served on a huge platter with veggies and chips. Out of the exotic choices on offer, we
ordered sumptuous meaty barracuda and king fish. Did I hear someone say hedonism?
Perhentian Islands, Malaysia
I'd taken to our new chalet immensely, especially the hammock, in which I spent long hours sitting in the sun and reading, re-awakening the dark parts of my brain which had been padlocked months ago. Not long after dawn this morning I tiptoed out to survey the morning like a King from his castle, computer book in hand.
After the mandatory Mars Bar shake, being hassled by a cute little black kitten in the process, and a basting and light cooking in the sun (turn regularly. Do not reheat), we braved the monitor lizards and took a path through the island's jungle interior. Halfway to our intended destination of Coral Bay, we heard an eerie rustling, and discovered objects were falling all around us in the forest, in the form of large seed shells. Despite our best efforts, we couldn't ascertain whether it was a natural tree process or an act of unseen mammals or birds in the trees above.